ABQDog on the Road - Autumn Getaway in Chama
Autumn Getaway in Chama

Setting out the last Saturday in October, I thought we'd have missed most of the Fall foliage, but was delighted that the bosque glowed yellow all through Abiquiu. Even further north the white aspen trunks were a beautiful contrast to the dark green conifers--even the brush was silvery and purple. But a couple of hours traveling through the spectacular landscape of northern New Mexico, we arrived at the
The Elk Horn Lodge
in Chama.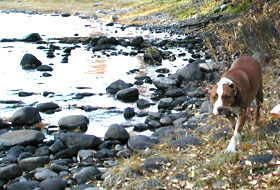 Our extremely cozy, wood-paneled cabin had a little kitchen, large bathroom, and plenty of space for eating, working, or curling up with a good bone. Right outside our front door were acres of land for post-prandial walks, and the Rio Chama was just a two-minute walk behind our cabin. And talk about quiet--not a sound!
Although there were lots of trails right outside the door, we were in an adventurous mood and headed north on Hwy. 17. We quickly entered Colorado and found many, many beautiful hiking areas right off the road like Trujillo Meadows, Red Hook Trail, and Spruce Hole.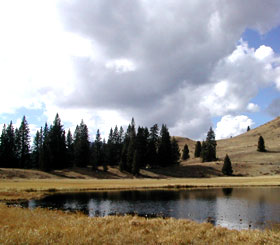 After hours spent crackling through the leaves, we'd worked up quite an appetite. Continuing north, amid spectacular mountain scenery, we discovered Mrs. Rios' restaurant at a picturesque bend in the road. We all sat out on their wide, sunny deck, enjoying the expansive valley, towering mountains, and delicious food before heading back to Chama for the night.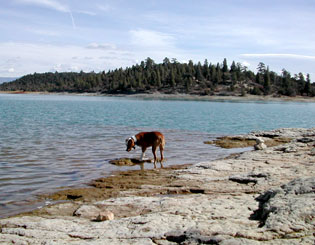 The next morning we were off for the lakes--first the big and beautiful Heron Lake...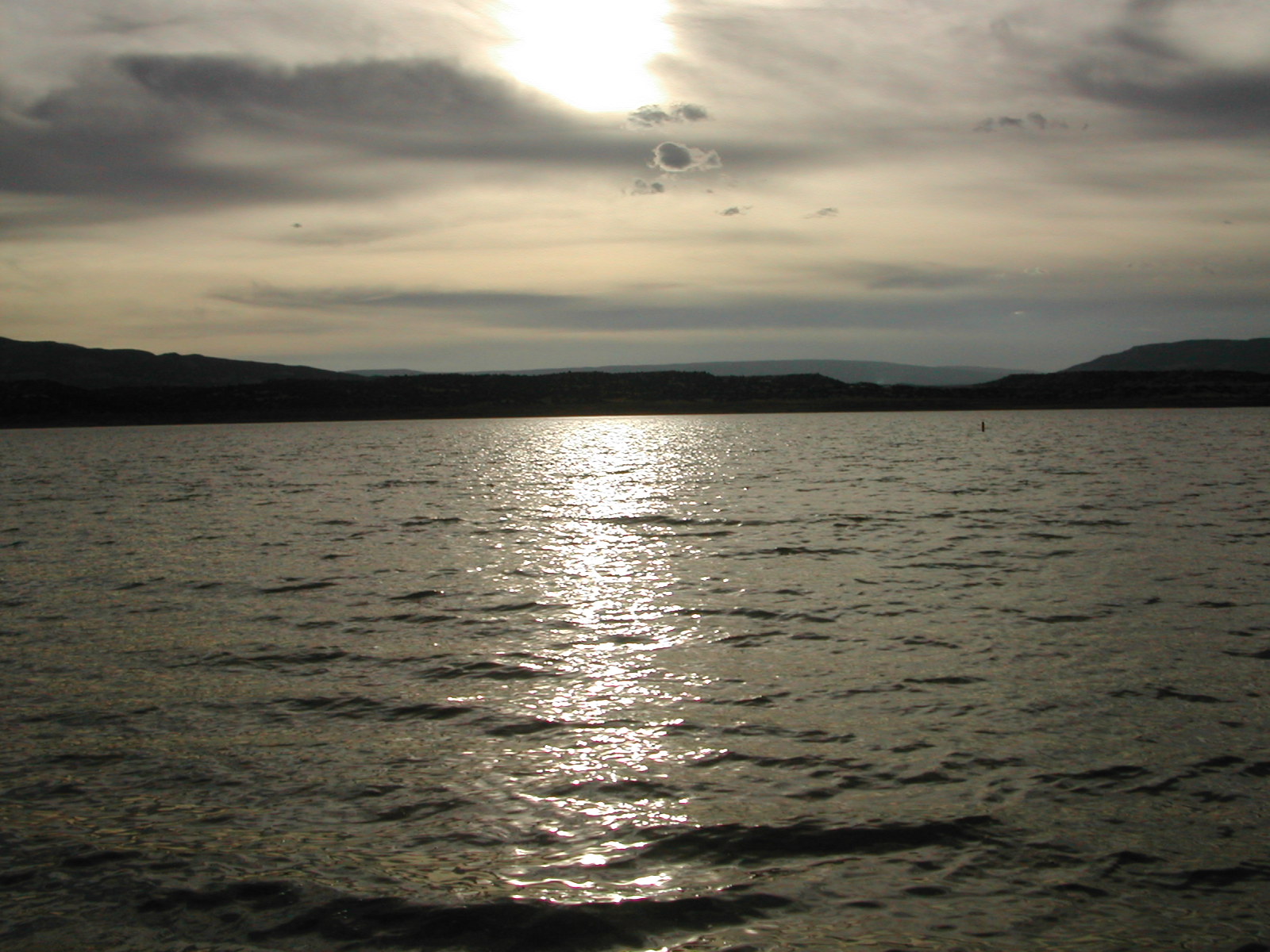 ...then quiet and serene Abiquiu Lake
It was hard to head home, but knowing this was less than three hours away helped. Here are some of the many other things to do if you're staying in Chama:
ride the narrow gauge Cumbres & Toltec Scenic Railroad which winds through the San Juan Mountains to Antonito, Colorado, and is open from Memorial Day week-end through October 21st
visit nearby Los Ojos, stroll the quiet streets and peruse its galleries
in early spring, watch for the Brazos Falls in the Brazos Cliffs Wildlife Refuge
bounce your way down the Rio Grande on a white-water rafting tour
For more information on Chama, visit
Chama.com
.