Dog Health

24-hour Emergency Clinics
Rt. 66 Veterinary Emergency Care
136 Washington St. SE, Ste. B
266-RT66 (-7866)
Animal Welfare Dept. emergency vet for injured stray, adopted, or reclaimed animals
VCA Veterinary Care Animal Hospital
9901 Montgomery Blvd. NE, 292-5353
Vet Emergency & Specialty Clinic
4000 Montgomery NE, 884-3433
Poison Control
New Mexico Poison Center
272-2222 or 1-800-222-1222
ASPCA Animal Poison Control Center
1-888-4ANI-HELP (1-888-426-4435)
($45 consultation fee)
First Aid
American Vet Assoc. First Aid tips
How to perform CPR on your dog
Low-Income Vet Care
If your dog is sick or injured, seek immediate professional care from a veterinarian. If the expense of veterinary care is a concern, contact your local animal shelter, which often has full-service veterinary clinics and may offer reduced rates; or find other options in this excellent article from
lessonsfromaparalyzeddog.com
.
The OSCAR Foundation
provides need-based financial assistance for dogs requiring physical therapy.
The SAGE Foundation
assists "dog who serve" in the military, police, or search and rescue.
The Ultimate Guide to Financial Aid for Pets
lists assistance by state.
Assistance with Vet Bills
American Humane
ASPCA
Banfield Charitable Trust HOPE Fund
Best Friends Animal Society
The Big Hearts Fund
Brown Dog Foundation
Care Credit
Dylan's Hearts
Fairy Dog Parents
Frankie's Friends
Friends & Vets
Harley's Hope Foundation
Humane Society of the U.S.
The Magic Bullet Fund
The Mosby Foundation
Paws 4 A Cure
The Pet Fund
Petco Foundation
PetSmart Charities
Pets for Patriots
helps vets with veterinary costs
Red Rover
Shakespeare Animal Fund


top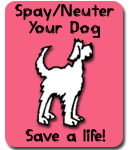 Thousands of unwanted dogs are euthanized in ABQ every year. Don't let them be one of your dog's puppies. Save a life--spay or neuter your dog!
Albuquerque
Alliance for Albuquerque Animals
provides free spay/neuter to low-income pet owners living in zip codes 87105 or 87121. Call 344-7387 for further information or e-mail
info@ABQanimalalliance.org
.
Animal Humane
's Low Income Spay/Neuter Clinic provides low-cost spaying/neutering of animals for for low-income people. Call 217-0300 for details.
City of Albuquerque Spay/Neuter Mobile Clinic
offers free services to qualified low-income and seniors. Call 311 for information.
Bernalillo County
Friends of Estancia Valley Animals
offers low-cost spay/neuter services, with no income restrictions, for dogs living in the Estancia Valley basin: Edgewood, Estancia, Moriarty, Mountainair, Stanley, Tajique, and eastern Bernalillo County. For more info call 505-281-3475, or email
hoymnd@msn.com
.
Santa Fe
Santa Fe Animal Shelter & Humane Society
offers reduced rate spay/neuter, with a further discount for low-income people. For more info, contact Eva Paloheimo at 505-474-6422.
New Mexico
Spay NM
is a statewide program of
Animal Humane NM
to provide one central place to learn about why to spay/neuter your dogs, as well as locations, FAQs, cost, and more. Great website that's very easy to use.
Animal Protection of New Mexico
's low-cost spay/neuter resources by county.
National
Spay/USA
helps find affordable spay/neuter services across the country.


top

---

best dog food from Reviews.com
choosing a good dog food, from Consumer Affairs
compare dog food reviews, from Consumer Affairs
---

Dangerous Foods for Dogs
alcohol
avocadoes
caffeine
chocolate
cooked bones
dairy
fatty, fried, or greasy foods
garlic (in excessive amounts)
grapes
macadamia nuts or walnuts
mushrooms
onions
raisins or currants
xylitol (in sugar-free products)
for a colorful list of these and more toxic foods, check out
The Goody Pet

Plants Toxic to Dogs
amaryllis bulb
avocado leaves, seeds, stem & skin
azalea
begonia
bird of paradise
bittersweet
calla lily
heavenly bamboo
chrysanthemums
clematis
crocus bulb
cyclamen bulb
delphinium
fig
four-o'clocks
hyacinth bulbs
iris corms
lantana
morning glory
narcissus, daffodil
oleander
onions
peaches
poinsettia
potato leaves & stem
rhubarb leaves
scheffelera (umbrella plant)
tomato leaves & stem
For a more complete list, check out ASPCA's
Toxic and Non-Toxic Plants
, and this helpful
infographic on poisonous plants
.

Troubled about the latest scary animal story that flies across the net?
Don't Panic. Check out Snopes'
Urban Legends
for the facts.
Sign up
here
to receive food recall alerts from Dog Advisor


top

---
Canine PT
Animal Neurology and Imaging Center, 5 Camino Karsten, Algodones, 431-0555
Paws-Abilities
now using water therapy
Theresa Barton, PT, CCRP
tgbartonpt@aol.com
, 328-3204

Canine Massage
Argeres Animal Alternatives
Dr. Argeres works in her office or your home
Steve Hallack
, In-home massage, MA, LMT, Certified Canine Massage Therapist
332-3211


Everything below (except the blanket) fits in a small toolbox:
adhesive medical tape
antibiotic ointment
antihistamine tablets or liquids for allergies (consult your vet for dosages)
antiseptic wipes or spray
bandages & gauze pads
blanket
blunt-tipped scissors
canine first aid book
cotton balls & swabs
disposable, non-latex gloves
eye dropper/plastic syringe
heat/ice packs
hydrogen peroxide (can be used for cleaning or to induce vomiting if poisoning is suspected)
nail clippers
photos of your dogs
splints/tongue depressors
sterile saline solution
styptic powder
thermometer
extra leash and collar with tags
tweezers
vet's name, address, & phone number (and any allergies your dogs may have)
Dog Safety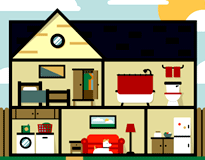 ADT
provides a nice infographic for dog-proofing your home.
Home Advisors
offers a room-by-room guide for dog-proofing your home and lawn.
SafeStars' Pet Safety Review
is a thorough listing of ways to keep your dog safe, including everything from seasonal tips, to transportation, food, natural disaster safety, and more. Great resource.
Canine First Aid & Safety
When your dog is sick or injured, you need information fast. Here are some links to help:
CPR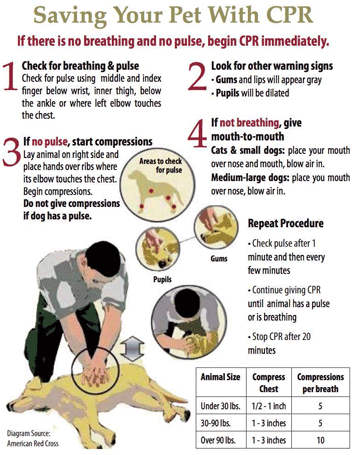 All About Frenchie's CPR Chart
General First Aid
ASPCA
's Emergency Care instructions tells you what to look for and what to do if your dog is sick
AVMA (American Veterinary Medicine Association)
helps with the most common problems
Drs. Foster & Smith
advice on treating anything from
bloat
to
zinc toxicity
Diarrhea
Bark
PetMD
Indigestion
PetHelpful
Vomiting
PetMD
WebMD
Seasonal Tips
Summer Health Tips
NEVER leave your dog unattended in the car -- even with windows open the temperatures can rise dramatically. Here's a flyer (PDF), from the SPCA of British Columbia, that lists the dangers of heatstroke, along with emergency treatment.
Best time for exercise is when it's cool--early morning or evening
Don't let your dogs stand on hot asphalt--their pads can easily burn
Signs for overheating include weakness, excessive panting and drooling
Make sure your dogs have plenty of shade and cool, clean water
Avoid areas where you suspect insecticide has recently been applied
APNM Summer Safety Tips
ASPCA Hot Weather Tips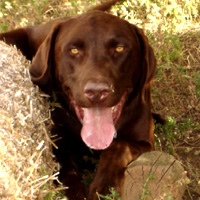 Heat Stroke in Dogs
Could your dog have heat stroke? Black dogs, dogs with a short muzzle, overweight dogs, and old/young dogs are particularly at risk.
Symptoms
increased panting and salivating
excessive drooling
rapid heart rate
vomiting blood
lethargy
weakness, staggering or inability to move
Immediate Action
put your dog in bathtub/shower and run cool (not cold) water over her head
if you can't get your dog in a tub, cool him off with a garden hose or pool
put a cold pack on his head (frozen fruit or vegetables are fine)
briskly massage her legs
give her access to as much cool water as she wants; adding a pinch of salt will help replace lost minerals
Treatment
As soon as your dog's temperature drops below 103, take her to your vet
immediately
.
PetMD info on heat stroke
Bellevue Animal Hospital, "How Hot is Too Hot?"
Never Leave Your Dog in a Parked Car in the Heat
With summer upon us, it's time for travel and a reminder about the dangers of leaving your dog in a parked car. With our extremely hot summers, parking in the shade--even if you're just gone a minute or leaving the windows cracked--is NOT ok. The temperature inside a car can skyrocket within a few minutes.
To convince yourself, get into your car on a warm, sunny day, turn off the engine, and crack the windows. It only takes a few minutes before it becomes unbearable. On an 85-degree day, for example, the temperature inside a car with the windows cracked can reach 102 degrees within only ten minutes. After 30 minutes, the temperature will reach 120 degrees becoming lethal for your dogs.
According to
Trips With Pets
, Stanford University School of Medicine's study measuring the temperature inside a parked car on sunny days showed that a car's interior can heat up by an average of 40 degrees in an hour, with eighty percent of the temperature rise occurring within the first half-hour. So cracking a window or running the air conditioner before parking the car were inadequate.
Dogs are designed to conserve heat. Panting and drinking water helps cool them, but if they only have hot air to breathe, dogs can suffer brain and organ damage in just 15 minutes. Signs of heat stress include: heavy panting, glazed eyes, a rapid pulse, unsteadiness, a staggering gait, vomiting or a deep red or purple tongue. If your dog becomes overheated, immediately lower their body temperature by doing one or more of the following before taking him or her to the closest vet:
Move him into the shade and apply cool (not cold) water all over their body to gradually lower their temperature.




Apply ice packs or cool towels to her head, neck and chest only.




Allow your dog to drink small amounts of cool water or lick ice cubes.
Thanks to the wonderful travel site for dogs
Trips with Pets
for the basis of this article.
Lyme Disease
Be sure to check your dogs for ticks after they've been outside. If you notice any of these symptoms, call your vet:
fatigue
fever
lameness
lethargy
loss of appetite
unusual breathing (cats)
To safely remove a tick, see our section under "Health How-Tos"


top

Health How-Tos

Brushing Your Dog's Teeth
When first introducing toothbrushing to your dogs, don't rush the process or they may become resistant
Always give a treat at the end of the session to make it enjoyable
If your dog shows any sign of agression, such as growing or biting, stop and contact your vet for more information
NEVER use human toothpaste, it could harm your dog
Giving your dogs Milkbones does not take the place of regular brushing. Milkbones are not effective for cleaning teeth.
Chew toys can help remove plaque and tartar above the gumline, but DO NOT give hard chew toys, such as hooves or bones. These can break your dog's teeth.
Oral rinses and gels have antibacterial properties and promote the health of your dog's gums.
For more information, check out
Dental Vet
or watch this video on how and why to brush your dog's teeth:
VetVid's How to Brush Your Dog's Teeth
.
How to Trim Your Dog's Nails
Washington State University's clear guide on
how to trim your dog's nails
, with close-up photos of the nail and the quick, so you know just what to do.
Tick Removal

To safely remove a tick:
place fine-pointed tweezers around the tick's mouth where it's connected to your dog's skin
gently pull up until the tick detaches
disinfect the bite site and tweezers and wash your hands thoroughly (never use your bare hands to remove a tick)
place the tick in a small container, labeled with the date, name and type of your pet, and contact your vet to see if the tick needs to be tested
Don't:
crush, puncture, or squeeze the tick
don't try to burn the tick with a match, lit cigarette, or hot nail
don't throw away or toss down the toilet, neither of which kills the tick
For more detailed instructions, go to ASPCA's article on
tick removal
.
Healthy Dog Treats

It's so fast and easy to make healthy dog treats from ordinary kitchen ingredients, like this beauty,
Berry the Bone
, from
Personal Creations
, which also links to many other sites for homemade treats.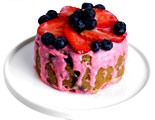 Their
birthday cakes
look
incredible
and pretty tempting to a human, too.
Beat the heat with The Dog People's
summertime slushes
(right), or some of the easy
dog-friendly ice cream alternatives
from
DogTime
.
Puppy Leaks
links to treats with five ingredients or less.
Check out
Cooking Light
for some yummy-looking treats, too.
For general ideas of good & bad ingredients for treats,
Vet-co NM
has you covered.
Iheartdogs.com list of
Twenty Fruits & Veggies Your Dog Will Love
Are You Being Scammed with Natural Dog Treats
, from
Dogs Naturally
Magazine.


top

Week of September 24th - 30th, 2018
Microchip & Shot Clinics
The HEART ordinance requires
dogs over six months old be spayed/neutered & microchipped.
(event locations below)
---
M
24
9 am - noon:
Walk-in shot clinic
at
Valley Vetco
, 413 Montaño Rd NE.
2:30 - 5:30 pm:
Walk-in shot clinic
at
Vet-co
, 8200 Menaul NE.
2:30 - 5:30 pm:
Walk-in shot clinic
at
Valley Vetco
, 413 Montaño Rd NE.
---
Tu
25
2:30 - 5:30 pm:
Walk-in shot clinic
at
Vet-co
, 8200 Menaul NE.
2:30 - 5:30 pm:
Walk-in shot clinic
at
Valley Vetco
, 413 Montaño Rd NE.
---
W
26
2:30 - 5:30 pm:
Walk-in shot clinic
at
Vet-co
, 8200 Menaul NE.
---
Th
27
2:30 - 5:30 pm:
Walk-in shot clinic
at
Vet-co
, 8200 Menaul NE.
2:30 - 5:30 pm:
Walk-in shot clinic
at
Valley Vetco
, 413 Montaño Rd NE.
---
F
28
9 am - noon:
Walk-in shot clinic
at
Valley Vetco
, 413 Montaño Rd NE.
2:30 - 5:30 pm:
Walk-in shot clinic
at
Vet-co
, 8200 Menaul NE.
2:30 - 5:30 pm:
Walk-in shot clinic
at
Valley Vetco
, 413 Montaño Rd NE.
---
Sa
29
9 am - noon:
Walk-in shot clinic
at
Valley Vetco
, 413 Montaño Rd NE.
2:30 - 5:30 pm:
Walk-in shot clinic
at
Vet-co
, 8200 Menaul NE.
2:30 - 5:30 pm:
Walk-in shot clinic
at
Valley Vetco
, 413 Montaño Rd NE.
---
Occasional
In-store clinics change too frequently to be reliable. Check out these local stores for dates of their shot clinics:
Event Locations
Albuquerque Animal Welfare
Eastside: 8920 Lomas NE, 768-1975
Westside: 11800 Sunset Gardens SW, 768-1975
Animal Humane | NM
:
main: 615 Virginia SE, 255-5523
Westside: 10141 Coors Blvd. NW, 323-7387
Beck 'n Call
9308 Susan Ave SE, 243-2117
Boofy's Best
8201 Golf Course Rd. NW, Ste C-2, 890-0757
Bookworks
4022 Rio Grande NW, 344-8139
Clark's Pet Emporium
Lomas: 4914 Lomas Blvd NE, 268-5977
Menaul: 11200 Menaul Blvd NE, 293-5977
Flying Star Cafe
Juan Tabo: 4501 Juan Tabo NE 275-8311
Nob Hill: 3416 Central Ave NE, 255-6633
Paseo: 8000 Paseo Del Norte, 923-4211
Rio Grande: 4026 Rio Grande NW, 344-6714
Corrales: 10700 Corrales Road NW (at Alameda), 938-4717
Going to the Dogs Adoption Center & Resale Store
4405 Jager Dr, Rio Rancho, 867-5347
136 Calle de Presidente, Bernalillo, 850-2578
Long Leash on Life
9800 Montgomery Blvd NE, Suite 13; 299-8800
Lucky Paws
6600 Menaul NE (SW corner of Coronado Mall)
Petco Academy
San Mateo & Academy NE, 797-1910
Petco Lomas
10700 Lomas NE, 296-0978
Petco West
3601 Old Airport Road NW, 898-2450
(just south of 528, between Ellison and Coors)
Petco Santa Fe
2006 Cerrillos Road, Santa Fe, 424-1667
Petland
6600 Holly Ave. NE, 821-7387
PetSen$e
7200 Montgomery NE, Suite C, 888-2059
PetSmart Academy
8070 Academy NE (at Wyoming), 796-0561
PetSmart Costco
1424 Mercantile NE (near Costco), 341-2431
PetSmart Cottonwood
10248 Coors Bypass NW, 792-1772
PetSmart Eubank
350 Eubank NE, 298-4122
PetSmart Santa Fe
3561 Zafarano Dr., Santa Fe, 471-5255
Pet Food Gone Wild
2415 Southern SE, Rio Rancho, 994-0101
Pet Vet Market
Eubank: 3732 Eubank NE, 296-7200
Montgomery: 11200 Montgomery NE, 296-7200
Satellite Coffee Alameda
1640 Alameda Blvd. NW, 899-1001
Sprouts Market San Mateo
6300 San Mateo NE (at Academy), 821-7000
Sprouts Market Lomas
933 San Mateo NE (at Lomas), 268-5127
Sprouts Market Westside
Alameda & Corrales Rd., 890-7900<
Teca Tu
Sanbusco Center, 500 Montezuma Ave., Santa Fe,
1-888-TECA-TU2
Three Dog Bakery
9821 Montgomery NE, 294-2300
Triangle Grocery
12165 State Highway 14 N, Cedar Crest, 281-3030
Valley Vetco
413 Montaño Rd NE, Suite A, 344-0780
Vet-co Menaul
8200 Menaul Blvd NE #R, 292-3030
Whole Foods Academy
San Mateo & Academy


top


Animal Blood Bank Hotline
, 800-243-5759
A list of
household hazards
from the American Veterinary Medical Association. If you believe your dog has ingested any of these, DON'T WAIT FOR SYMPTOMS TO DEVELOP, immediately contact the New Mexico Poison Center at 272-2222.


top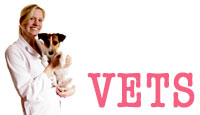 an incomplete list of vets in the area, no endorsement or recommendation is implied


top

last updated on September 24, 2018
links last checked on July 3, 2018